Hello Magical Entrepreneur!
Have you ever wondered why manifesting money seems to be so much more difficult than manifesting pretty much anything else? (Especially in your business?)
Are you working incredibly hard to get your dream business up and running, but are more than frustrated because no matter what you try, you're not seeing the results you desire?
Or: You ARE making money, but you're also super stressed, exhausted, and burned out, and if you're completely honest with yourself, you're not secretly starting to hate your business a little bit?
If you're tired of struggling to make a living, done sacrificing your freedom for money and hustling 40+ hours each week just to pay your bills, and if you're ready to make money in a purposeful way that feels good to your soul, you're in the right place!
In this course, you'll learn everything you need to know to break free from the endless hustle, embrace your true calling, and make more money doing what you love with more ease, joy + divine confidence.
Can't wait to get going? Click here to join the course + start manifesting today:
---
My Story

When I started my business a little more than 7 years ago, everything went just as planned. I took the leap, quit my job, my employer became my first client, and I always had more than enough to cover all my living expenses right from the beginning.
More clients followed, I kept building my business with lots of passion, enthusiasm + hard work, and soon, I had everything a successful start-up entrepreneur could ask for:
☆ I was free to live life on my own terms, make my own schedule, and travel wherever and whenever I wanted.

☆ I was working with high-end corporate clients and writing advertising copy for famous brands.

☆ People loved my work, my blog was getting 15,000 visitors a month, and I quickly established myself as the go-to expert in my niche.

☆ I was getting paid for work I enjoyed (writing, designing + coding websites).

☆ I was making good money every month, and my bank account was growing steadily.

B U T: Even though on the outside everything looked fabulous—if I was completely honest with myself, I wasn't nearly as happy as I pretended.
Even though in theory I had all the freedom I wanted, I didn't know what to do with my freedom. I was working harder than ever before, constantly putting my own desires on hold because I wanted my clients to be happy first, and I was feeling increasingly burned out, exhausted, and empty inside.
Why? Even though I was now an entrepreneur, I was still stuck in the 9–5 mindset, doing everything exactly the way I had learned it. I didn't realize that running a sustainable business was very different from being an employee.
I was ...

☆ ... filling my days with as much work as possible because I believed that more effort + time = more money.

☆ ... pushing myself forward non stop because I believed I couldn't afford to take breaks.

☆ ... feeling super guilty whenever I did take some time off.

☆ ... taking on the stresses of my clients and putting my needs behind everyone else's because I had never learned to set proper boundaries.

☆ ... unable to monetize any of my own creative ideas because I wasn't used to the concept of making money NOT working for someone else.

☆ ... not living my true purpose because trading my "most marketable skills" for money was all I knew.

All of this changed once I started my second business. After doing a lot of soul searching, I had rediscovered my passion for all things spiritual. Soon, I was working with the angelic realms every day, giving readings to clients, and sharing my journey on YouTube.
In 2011, I got my Angel Therapy® certification from Doreen Virtue, and about half a year later, I quit my copywriting + web design business for good.
I also decided to leave behind everything else that was didn't feel true anymore: In February 2012 I left my home in Europe with all my belongings in a suitcase and a carry-on bag, embarked on a journey into the unknown, got to visit the most magical places in England, Scotland, Sweden, California, Arizona, Hawaii ... and eventually returned to my beloved childhood home in beautiful British Columbia, Canada.
What I hadn't expected: Growing a completely new business in a completely new niche while traveling and starting from scratch in a new country was more than challenging.
As I put myself into this very vulnerable space, all of my unhealed childhood trauma came to the surface. This wasn't just painful, but it also took up a lot of space and energy. As a result, I burned out more than once, I couldn't work for many months, and my income dropped from previously $10K+ in my best months to nearly 0.
I had hardly any self-esteem left, and I was trapped in fear.
No matter how hard I tried, I was convinced that no one wanted to pay me for my work. I was so scared of being rejected I wasn't even making offers anymore, and even though I was busy creating new things all the time, everything I launched "failed".
(In truth, I was doing just fine. I was just giving up waaaaay too easily!)

I had a big vision and lots of creative ideas, and I knew I was in this world for a purpose. But no matter what I did, I just couldn't seem to get my income back up to anywhere over $250 a month.
Luckily, I had savings to keep me alive, but not being able to make money and not being free to live my purpose was more than frustrating.
Finally, I made a decision. At the beginning of 2015 I said to myself: "I'll make it work this year! If nothing changes, I'll go get a job."
I took small steps at first. I Created my first online courses. Started making more money. Had the happiest summer ever. Sold my first coaching intensives. Made even more money. And just before the end of the year, I launched my first coaching program with a $5K month.
But: I soon found myself stuck in the same old place again. I had totally exhausted myself during my launch, I wasn't enjoying my business anymore, and dealing with my own emotional turmoil while working with my clients was massively painful.

However, I didn't give up! As I made a commitment to keep going, to listen to my soul and really make things work for me, I kept making progress. I reconnected with my truth and purpose more and more, and gradually, I went from struggling to make a living to making money joyfully and with ease.
And—God/the universe helped in BIG ways:
☆ I started attracting clients who asked me for exactly the programs I had been dreaming of, and I got paid to create them.

☆ I manifested an opportunity to work with a coach I had always admired and who helped me create some massive breakthroughs with just a few simple tweaks.

☆ I started making way more passive income with very little effort (Facebook ads rock).

☆ God heard my prayers for healing in my relationship (my fiancé and I were both struggling with depression and anxiety) and sent us a couple of healing angels in human disguise (long story), whereafter I was able to let go of a lot of the emotional baggage and fear I had been carrying, and which allowed me to take bigger + bolder steps forward in my business.

☆ I was finally able to work with clients without taking on their suffering, and I was also able to receive money MUCH more easily (no more hidden guilt).

☆ My self-esteem grew, I was listening to my intuition more, and I was creating better results in my business working less (because I was doing the right things).

☆ I celebrated my highest cash month yet in my business (multiple times).

☆ I finally made my first $5K+ sales, after years of trying.

(To be continued ...)

Because I'm so incredibly grateful for all the blessings and all the miracles that have been pouring into my life, I've decided to put everything I've learned in the past 9 years into a course to help magical business owners like you embrace their divine heritage of infinite abundance, reconnect with their true creative power, and make money doing what they love with ease, joy + unstoppable confidence.
Ready? Click here to get started:

---
In the Course, You'll Learn:
☆ The #1 mindset shift that needs to happen so you can create money easily, effortlessly, and abundantly NOW (and that will make all other mindset work unnecessary).

☆ My #1 manifesting tip that always works and that only takes a few seconds (hint: it's NOT repeating affirmations, endless visualizing, and raising your vibration over and over again ... although there is a place for these things, too.) :)
☆ How to identify the money gremlins that are secretly keeping you broke even though they don't seem to have anything to do with money—and how to get rid of them once and for all.

☆ My top 3 ways to release fear and get back in touch with your true inner guidance so you'll always know exactly what to do when to create the results you desire in your business.

☆ How to create a simple 30 day action plan to manifest money on demand whenever you want to boost your cash flow—instead of waiting + hoping for it to show up.

☆ How to simplify your life and create space for yourself to receive abundance rather than being in constant busy mode + pushing money away.

☆ How to balance the divine feminine (receiving) + masculine (action taking) energies within yourself to create money with ease, flow + focus, and without burning yourself out in the process.

☆ And more ...

---
The Course Includes
1. Manifesting Money Video Course

First, you'll get my complete Manifesting Money Video Course, consisting of 12 video modules that will guide you through your healing + manifesting journey step by step.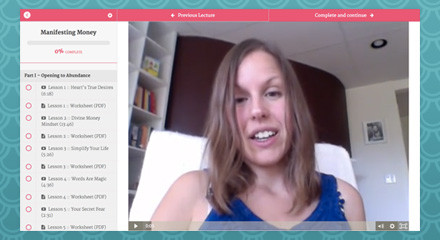 The first part (Opening to Abundance) covers the spiritual foundation of effortless manifesting. You'll receive a set of powerful tools to clear what is blocking your inflow of abundance, release fears that are holding you back, and work your magic to create money easily and in a purposeful way.
In the second part, you'll get to practice your money magic to boost your cash flow in your business—using a simple technique you can customize for your own business to create money on demand whenever you need to.

2. 30 Day Money Manifesting Challenge
Join the 30 Day Money Manifesting Challenge and make manifesting money a fun game! You can go through the challenge once to get your money manifesting momentum going, or you can make it a monthly manifesting practice!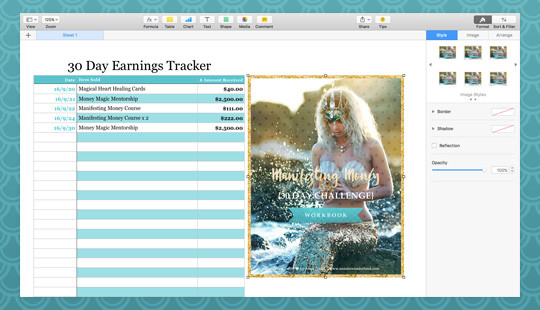 In the challenge, you'll ...
☆ Set your $$$ goal + intentions for your next 30 days.
☆ Create a magical offer your audience can't wait to buy from you.
☆ Create your 30 day action plan to promote your offer.
☆ Take daily soul-aligned action to make sales + money.
☆ Celebrate your successes + activate your heart magnet to attract abundance with even more ease.

Want some help with this? Purchase the VIP Version of this program + we'll get together on Skype to create your very personal money manifesting plan for you and your business! (Details inside the course—available for a limited time.)

3. Worksheets + Helpful Tools
Each of the video lessons comes with homework + actionable guidance to help you implement what you have learned + start creating results right away.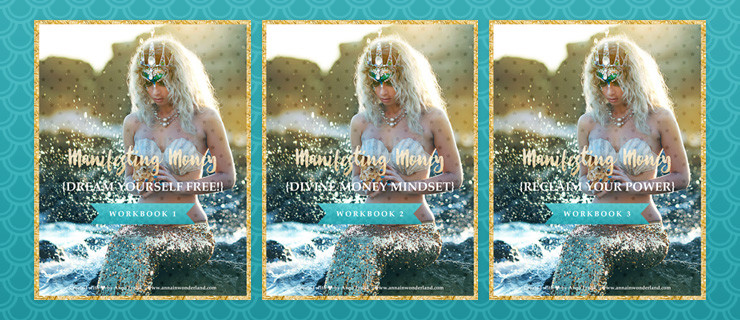 You'll also receive my 30 Day Earnings Tracker to help you keep track of your income (joyful celebration creates more magic) as well as my Pricing Calculator to help you get your pricing straight.

4. BONUSES
☆ Bonus 1: Webinar replay "Kickstart Your Spiritual Business: 6 Money Blocks + 6 Ways to Make More Money With More Ease".

☆ Bonus 2: Manifest Money in 24 Hours workbook to help you manifest money quickly whenever you need an instant cash boost.

Ready to embrace your divine heritage of abundance + manifest money like a pro starting today?
If you're ready to stop struggling in your business and create money with ease, joy + confidence starting today, please click the pink button to join us! I can't wait to see you inside the course!